The University of the West of Scotland (UWS) was formed in August 2007 by the merging of the University of Paisley with Bell College. 16,000 students are currently enrolled and it is the largest modern university in Scotland and is spread across four campuses in Ayr, Dumfries, Hamilton and Paisley.
The University has six academic schools and, following the last National Student Survey, 84% of students were happy with UWS. Chemical, Process and Energy Engineering, Chemistry, Cinematics & Photography and Civil Engineering were also top in the Scottish sector for overall satisfaction.
MAKING A DIFFERENCE
University of the West of Scotland aims to have a transformational influence on the economic, social and cultural development of the west of Scotland and beyond.
UWS is placed by Times Higher Education in the top 600 universities in their 2020 World University Rankings and in the top 150 in THE's Young University Rankings 2020.
The Times/The Sunday Times Good University Guide 2019 ranks us as a top 100 UK university and as the highest ranked post-1992 university in Scotland. We rate highly for teaching quality and student experience in the following areas:
Aeronautical & Manufacturing Engineering, Chemical Engineering, Civil Engineering, General Engineering, Mechanical Engineering
Education
Hospitality, Leisure, Recreation & Tourism
Physics & Astronomy is also ranked as highest in Scotland for teaching quality
UNDERGRADUATE COURSES
Our career-focused undergraduate degrees are designed in partnership with business and industry. Students graduate with internationally recognised qualifications, ready to succeed in the job market.
POSTGRADUATE & POST-EXPERIENCE
The Postgraduate & Post-experience degree courses at UWS are designed to create work-ready graduates. They will build on your earlier studies and develop advanced knowledge and understanding in your chosen field.
STUDY OPTIONS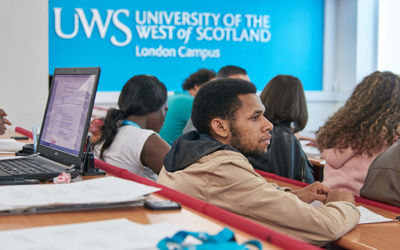 UWS offers a range of career-focused Bachelor, Masters, and Doctoral research opportunities across six academic schools.
WHY UWS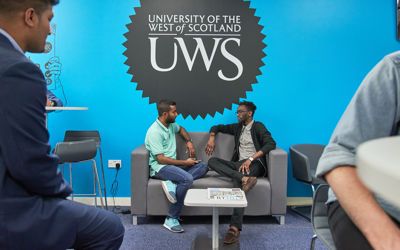 Every year at UWS, we welcome hundreds of international students into our vibrant and diverse academic community.
Offered Courses:
Bachelor's Level
Account/Business/Economics/Fin
Aviation
Biomedical/Biotechnology
Computer/IT & Related Subjects
Education & Training
Engineering
Humanities/Social/Dev.Studies
Law & Legal Studies
Nursing/Midwifery
Psychology
Science (Physical/Biological)
Other Subjects
Master's Level
Account/Business/Economics/Fin
Computer/IT & Related Subjects
Engineering
Nursing/Midwifery
Psychology
Other Subjects
Visit Site